July 2022
Summer at Guildford Cathedral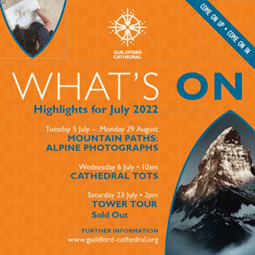 This summer there is a packed programme for everyone to look forward to at Guildford Cathedral.
For the Art Lover
Fiona Bunn's Alpine photographs are an appreciation of the alps, a journey between darkness and light reflecting the challenges for these ancient landscapes. A simple stunning exhibition which will be on display at the Cathedral from 5 July to 29 August, which is part of our 2022 Art Exhibitions. You can find more information Here
We have special events for our younger visitors this month. Our monthly Cathedral Tots will be running from 10am on Wednesday 6 July. This informal service is aimed at pre-schoolers and their parents/carers with a bible story, craft, song and prayer, plus refreshments. This month the well-known Bible story 'Joshua and the battle of Jericho' will be read and children will have fun making trumpets and will make lots of noise in the Cathedral as they listen to the story. No booking is required; all children must be accompanied.
With the long summer holidays starting, our Family Fun Day will be taking place on Wednesday 27 July with two entry times of 10am and 11am. Our summer-themed day allows families to enjoy engaging activities in our wonderful space. All our children's events are free, but booking is essential for our Fun Days. These days are aimed at all primary school aged children and all children need to be accompanied by an adult. You can find more information here
For the Explorer
Join our expert guides climbing the 249 steps to the top of the tower for one of our Tower Tours on Saturday 23 July (Sold Out | 6 August and 3 September still have availability) to enjoy stunning views over the surrounding area, seven counties and see landmarks in London. Advance booking is required via the BOX OFFICE Tickets are £5 per person, some restrictions are in place.
All our welcome to join us for our Services of Worship this July
On 10 July at 6pm our Choral Evensong with Installation and Valediction of Choristers the last Sunday of Choir term, where we say goodbye to the choristers' leavers and welcome new ones, both girls and boys.
On Sunday 24 July at 9.45am and 6pm our Cathedral Eucharist and Choral Evensong will be sung by our visiting choir the Exonian Singers.
Cathedral Closures in July | We remain Open for Private Prayer
Fri 15 July, Monday 18 – Friday 22 July inclusive. The Cathedral will be closed. We will be welcoming the University of Surrey staff, students and their families to the July graduations. Members of the public who would like to visit the Cathedral for private prayer only will be able to access the Lady Chapel during this time.
Food and Shopping
If you are attending any of our services, events or just driving past, Seasons Café and Kitchen by the Cathedral, serve the most delicious lunches and refreshments and the Cathedral Gift Shop also sells the most wonderful items, ideal for gifts and cards.
Free 2 hour on site parking is also available.
With such a variety of events taking place, we very much look forward to welcoming you.
Box Office Book Tickets Here