June 2022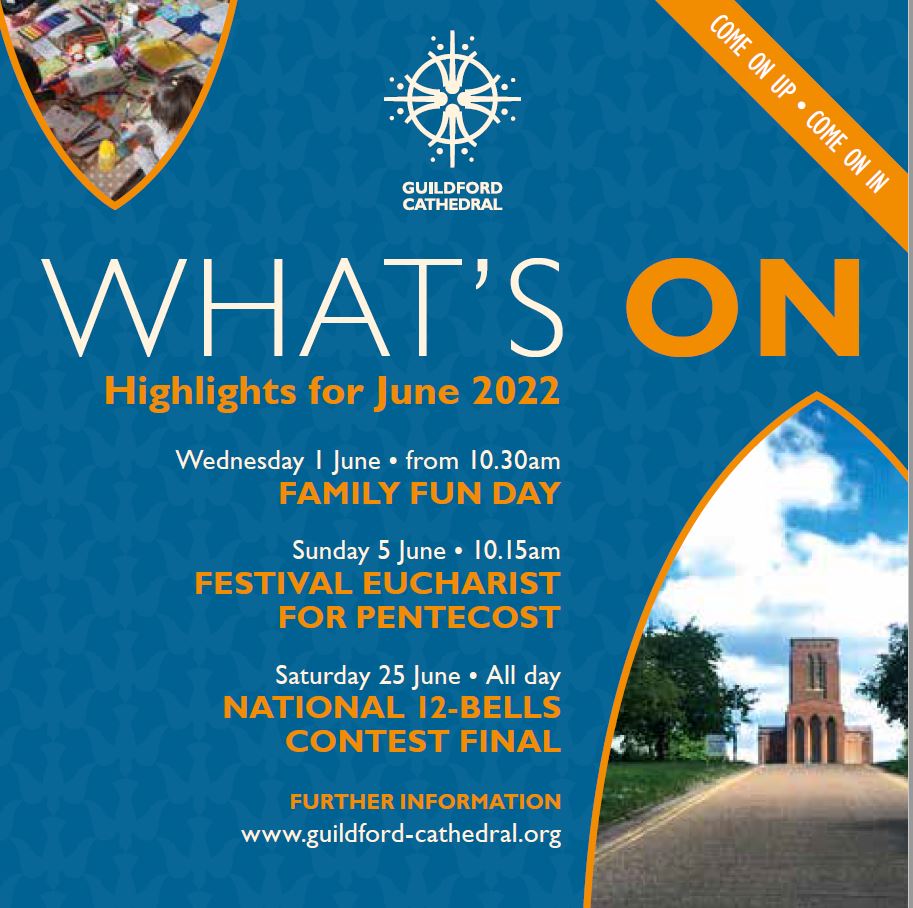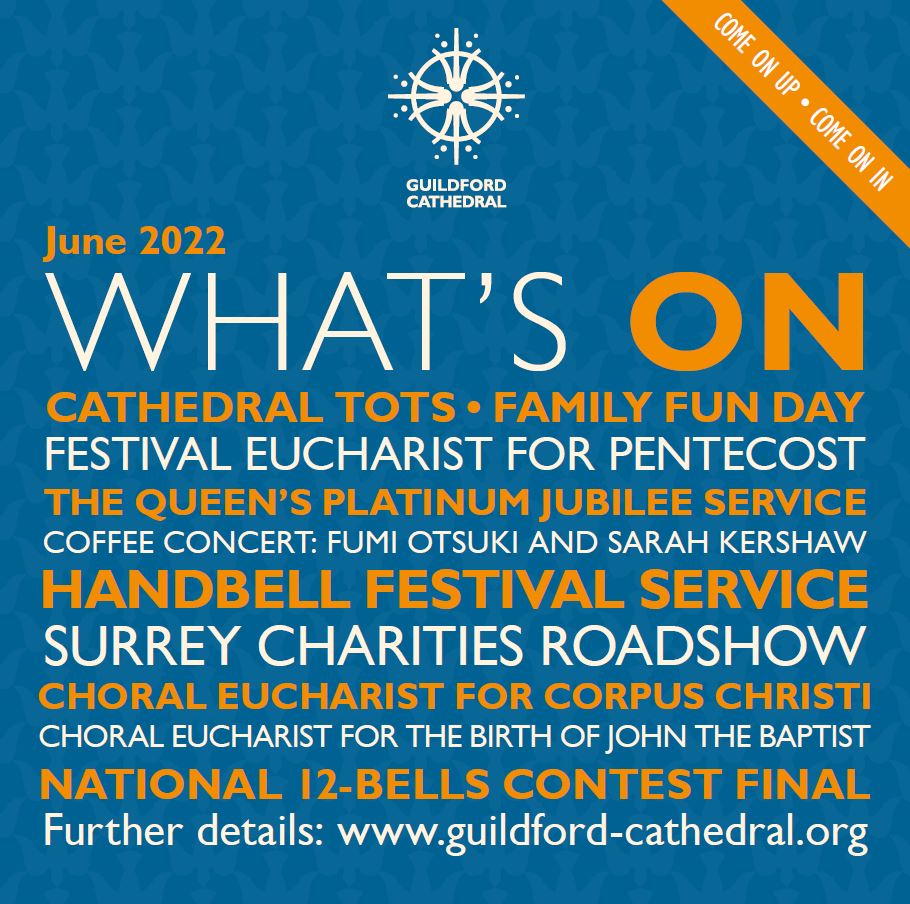 A Month of celebrations this June
As we start to move into summer, there is a packed programme with something for everyone to look forward to at Guildford Cathedral.
For Families our popular monthly Cathedral Tots will be running from 10am on 1 June. This month Cathedral Tots is only running for 30 minutes ahead of the Family Fun Day. School-age children are welcome to attend with their younger siblings. Our Family Fun Day follows on from Cathedral Tots taking entry times are 10.30am and 11.15am. Pre-booking is essential to secure an activity pack. Various activities are planned for this event to coincide with the Queen's Platinum Jubilee, the Cathedral's dedication to the Holy Spirit, and the festival of Pentecost. Book here
All are welcome to join us for our Services of Worship this June
Link to our Services here
On 5 June at 10.15am we will be celebrating the Festival Eucharist for Pentecost, 50 days after Easter, today crowns and completes the Easter Festival. We celebrate God the Holy Spirit among us and the birth of the church. Our Cathedral is dedicated to the Holy Spirit. This service will be livestreamed.
Also, on the 5 June, we will be holding The Queen's Platinum Jubilee: A Service of Thanksgiving and Celebration. This is a service for the County, celebrating the Platinum Jubilee of Her Majesty the Queen. Please note that this is a ticketed event. This service will be livestreamed.
Sunday 12 June at 6pm, the Cathedral Choir is joined by the Choir of Holy Trinity Church for Evensong, which promises to be a musical feast.
For the Music Lover
On 9 June, we are looking forward to welcoming Fumi Otsuki on violin and Sarah Kershaw on piano performing at our monthly Coffee Concerts. You can find out more information here.
On Sunday 26 June at 3pm we are holding a Valedictory Organ Recital. This year's outgoing organ scholar, Michael Stephens-Jones, presents a varied programme including works by Karg-Elert, Judith Bingham and Landmann.All welcome to come along.
Its all about the Bells in June
We have two very special days for all those that love bells.
On 11 June at 3pm we will be holding our Handbell Festival Service celebrating the Handbell Ringers of the South-East of Great Britain. The theme of this service is one of 'Thanksgiving', reflecting our joy at being able to meet together after a 2 year absence, enabling us to hold our 30th Handbell Festival Service, and also celebrating the Her Majesty, Queen Elizabeth's Platinum Jubilee.
On Saturday 25 June we are proud to be hosting the National 12-Bells Contest Final which is the culmination of the finals of the 12-bell striking contest. This is a bell-ringing contest in which teams of ringers representing cathedrals and churches ring a set piece, which is then judged.
A very special inaugral events for Surrey Charities
On Thursday 16 June, we are holding an inaugural Surrey Charities. The roadshow aims to support charities in Surrey by creating an opportunity to engage with donors, supporters and the public. This is a great opportunity to meet charity staff in person, explore volunteering opportunities, understand how charities can help and support you and how you can support the charities. For more information, please visit our website https://www.guildford-cathedral.org/events/surrey-charities-engagement-day
For the Art Lover
The Grafham Group's art exhibition will continue in the Cathedral until Sunday 19 June, as part of our 2022 Art Exhibitions. Pop-up 'meet the artist' sessions are ond Monday 13 June from 11am to 1pm. For more information: https://www.guildford-cathedral.org/events/art/the-grafham-group
Food and Shopping
If you are attending any of our services, events or just driving past, Seasons Café & Kitchen by the Cathedral, serve the most delicious lunches and refreshments and the Cathedral Gift shop also sells the most wonderful items, ideal for gifts and cards and some jubilee items.
Free 2-hour on-site parking is also available.
With such a variety of events taking place, we very much look forward to welcoming you.
Box Office Book Tickets Here