May 2022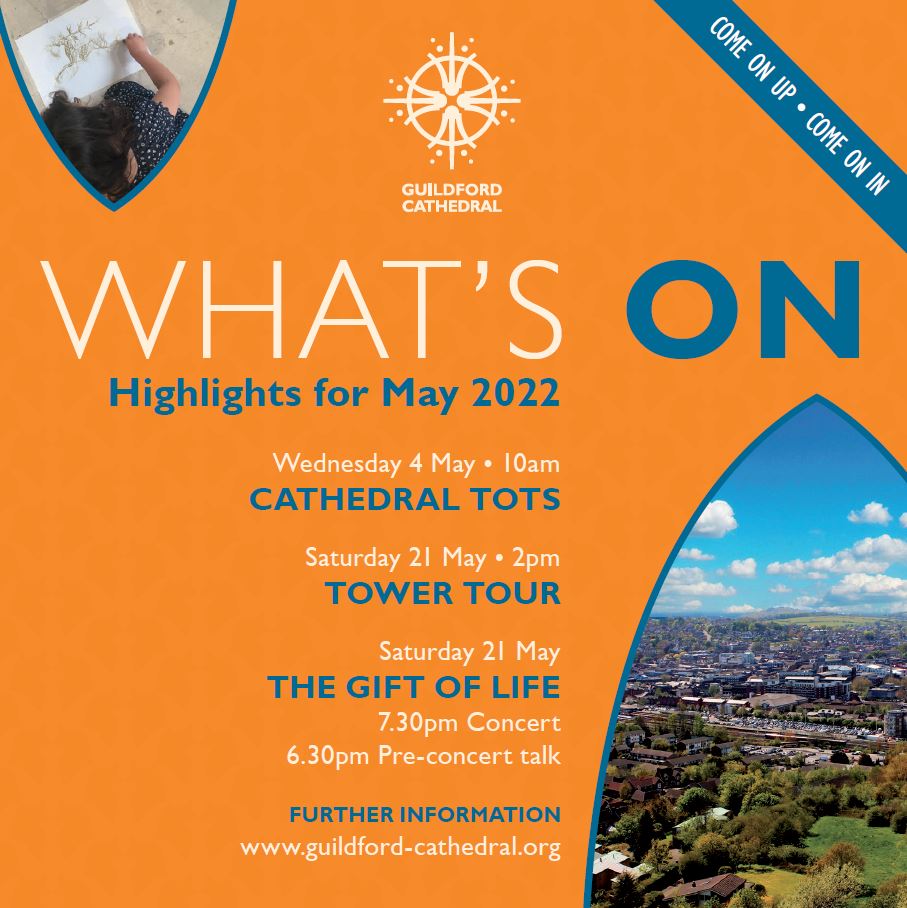 Lots happening at Guildford Cathedral this May
As we start to move into the early months of summer, there is plenty to look forward to at Guildford Cathedral come rain or shine!
For Families
On 4 May, our popular monthly Cathedral Tots will be running from 10am. This month we will hear the story of Daniel in the Lion's Den, children will be able to create a lion mask during the informal service and there will be lots of roaring taking place! Cathedral Tots is free to attend, with on-site parking and the team in Seasons Café and Kitchen will be delighted to welcome you for a delicious lunch or snack afterwards.
For the shopper
The popular Craft + Flea shopping experience takes place on Saturday 7 May. Come along and enjoy work by talented, independent makers, designers and producers and collectors, each handpicked for their quality and on-trend products. For tickets to this event please click the link above.
For the Day Tripper
The Friends of Guildford Cathedral have organised a Day Trip to the Galleries at Westminster Abbey, which includes a two-course lunch at the Cellarium, a visit to the Galleries and attendance to the Choral Evensong at 5pm, which will be sung by Boys' voices. Everyone is welcome to come along and tickets can be purchased for £50, please email friends@guildford-cathedral.org or call 01483 547 875 for further information.
For the Music Lover
On 12 May, we are looking forward to welcoming 'Yoon Seok Shin' to our monthly Coffee Concerts. South Korean born British pianist and Young Steinway artist Yoon Seok Shin is very much in demand, with over 50 performances per year at venues across Europe, Asia and the UK. The Coffee Concerts start at 10.30am with tea and coffee served in the Cathedral. This is followed by Yoon's performance from 11.15am. Again, this is a free event and we have on-site parking next to the Cathedral.
The evening of 21 May we are very much looking forward to our special 60th Anniversary Concert John Rutter's The Gift of Life taking place at 7.30pm. Composer John Rutter will conduct the Guildford Cathedral Choir singing the 'Gift of Life' which will comprise the second half of the concert.
The first half of the concert will be sung by Guildford Cathedral Choir, conducted by Katherine Dienes-Williams and music will include;
We are delighted to host a special pre-concert Audience with John Rutter, in conversation with Katherine Dienes-Williams these tickets are £35 and include premium seating. Concert only tickets range from £5 - £22.50. For further information and to book tickets, please visit our website.
For the Art Lover
Our next Art Exhibition runs from the 17 May to Sunday 19 June. The Grafham Group will be exhibiting their wonderful artwork, this exhibition encourages people to take up art, with an opportunity for visitors to create art themselves. The title of their display is 'A celebration of art at any stage of life.'
For those with a Sense of Adventure
We have a Tower Tour on 21 May. This special experience allows visitors to enjoy an exciting journey spiralling up the 249 steps to the top of the Cathedral. Passing through the Ringing Chamber and Bell Chamber containing the only ring of 12 bells in the Diocese. At the top you can enjoy the stunning 360° views across Guildford and towards London before descending and possibly visiting our café/restaurant for a well-deserved piece of cake! To book a place on our tour, please click here: https://www.guildford-cathedral.org/events/tower-tours-2022
All are welcome to join us for our Services of Worship this May
Link to our Service here
On the 17 May, a Consecration Anniversary Eucharist will take place in the Cathedral at 5.30pm. 61 years ago, the completed Cathedral was blessed on this day and each year we commemorate this day in the life of this sacred place, given to the community of Guildford and its diocese for worship and prayer.
On Thursday 26 May at 7pm, the Cathedral will be holding an Ascension Day Eucharist, rejoicing 40 days after Jesus rose from the dead at Easter, today marks his commission of his followers to continue his work. Jesus promises the gift of the Holy Spirit will be theirs as they move forward with Jesus no longer with them in the flesh.
If you are attending any of our services, events or just driving past, Seasons Café & Kitchen by the Cathedral, serve the most delicious lunches and refreshments and our on-site shop also sells the most wonderful items, ideal for gifts.
With such a variety of events taking place, we very much look forward to welcoming you.
Box Office Book Tickets Here