Welcome to Guildford Cathedral...
Sunday 19 March – The Fourth Sunday of Lent
Due to staff shortages, we are occasionally having to make changes to our opening hours. Please ensure that you check the Cathedral Diary before coming to visit to ensure that there have been no changes to our opening. Thank you for your understanding.
The Cathedral Eucharist takes place at 9.45am and Choral Evensong takes place at 6pm.
These services will also be available to view on our YouTube channel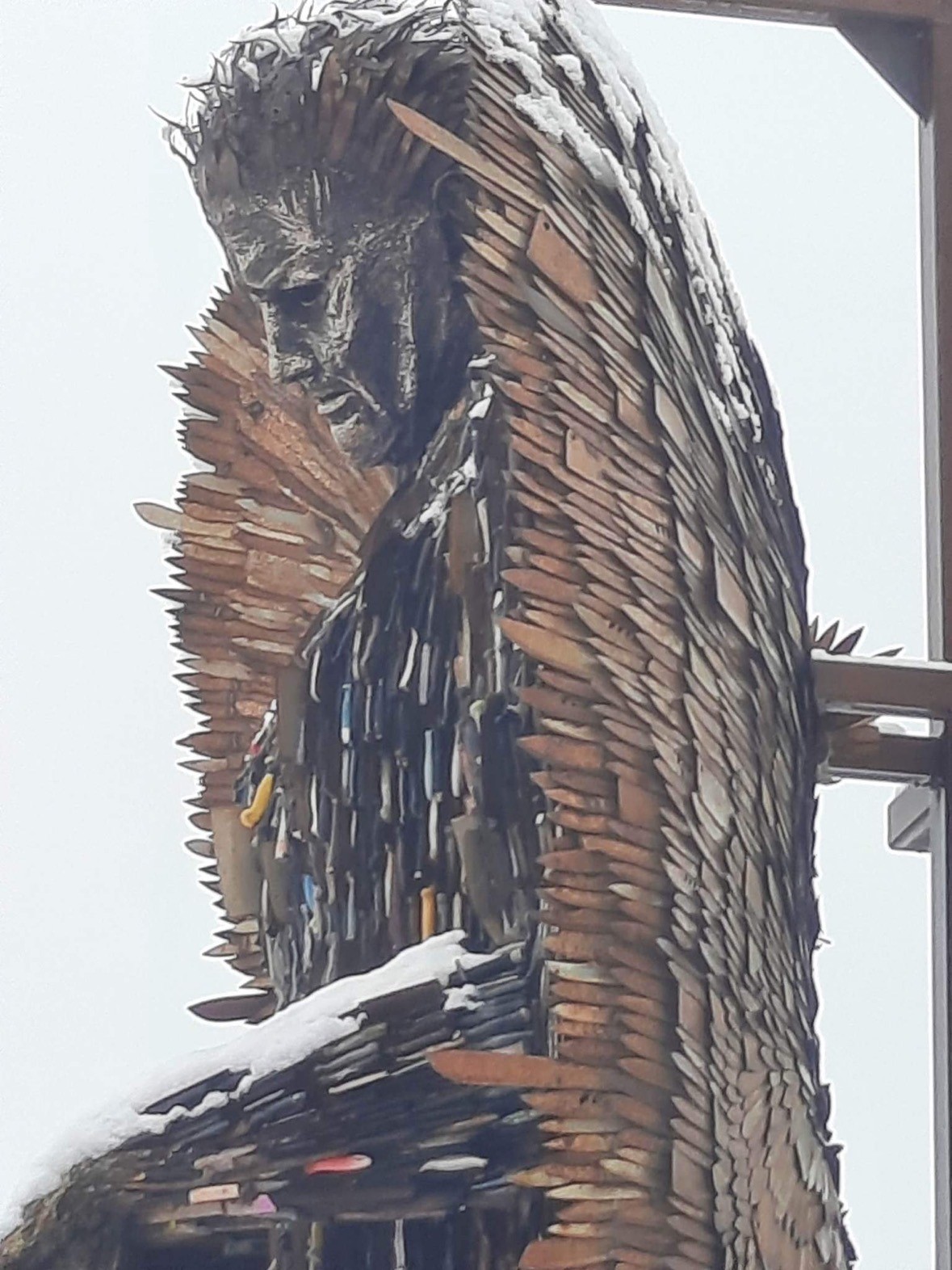 Sunday 19 March, is the Fourth Sunday of Lent. The Cathedral Eucharist takes place at 9.45am, and Choral Evensong is at 6pm. These services can also be viewed on our YouTube channel The Cathedral is open to everyone and we look forward to welcoming you to our services.
The third week of the Knife Angel's visit to Guildford Cathedral has been another busy one with a constant stream of visitors coming up to see the Knife Angel, with over 300 people coming up overnight to see the angel.
We welcomed the ever-popular Rock Choir on Wednesday for a magnificent fundraising concert, raising over £1500 to help fund the cost of the Knife Angel while it resides here at Guildford. It was lovely to hear so many positive comments from the many 200-strong audience who came to hear the wonderful music.
The Knife Angel's singular objective is to bring about social change by educating children, young people and adults about the harmful effects that violent behaviour has on communities all across our nation. Surrey is unlike many other hosts to the Knife Angel, in that our steering group has been led by the young people in our community and what they want to see, and things they think will help them. We have welcomed many pupils from local schools to visit the Knife Angel and we are hopeful the Knife Angel's strong message of anti-aggression/anti-violence is leaving a lasting message with those pupils.
Throughout the month there are many events and talks that you can participate in, please look at the Diary of Events for the Knife Angel and come to some of our events, and help us reach across Surrey to turn the tide against violent and aggressive behaviour. If you would like to know more about this monument visit our website. We are working closely with Christs College School and other partners on the Knife Angel project. The students at Christs College have produced a brilliant short video about the Knife Angel. Please have a look at this and share with your connections.
The cost of having this monument here is substantial, if you are able to help with this cost by making a small donation it would make a difference, if you can help simply go to our fundraising page or click the QR code.
We are currently experiencing some staff shortages, therefore we are working on reduced opening hours for the Cathedral. Please do check the Cathedral Diary for our opening times during this period. Entry to the Cathedral is free, there is a small charge for Guided Tours. We look forward to welcoming you.
With blessings
The Very Reverend Dianna Gwilliams
Dean of Guildford
Guildford Cathedral is a friendly, welcoming community, with the worship of God at its heart. We welcome visitors, pilgrims and tourists of all ages from near and far and look forward to welcoming you amongst them.