Welcome to Guildford Cathedral...
Holy Week and Easter
This weekend sees the start of Holy Week and Easter here at the Cathedral. Beginning on Palm Sunday and ending on Easter Day, April 9.
All are welcome to join us.
Palm Sunday | Sunday 2 April
6pm Readings and Music for Passiontide
These services will also be available to view on our YouTube channel and via Facebook
Please see our closures and restrictions
page
before visiting
Sunday 2 April, Palm Sunday
All are welcome to join us for our services this Holy Week and Easter. Join us every day for Steps along the way, find out more here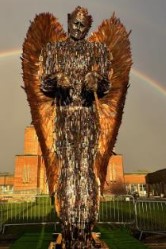 09.45am Choral Eucharist with Procession of Palms
6pm Readings and Music for Passiontide
The Cathedral is open to everyone and we look forward to welcoming you to our services.This week we have said a very fond Farewell to the Knife Angel, after its month long stay with us.
Guildford Cathedral welcomed HRH the Duke of Gloucester, to see the Knife Angel sculpture, which has been on display outside of the Cathedral throughout March. The Duke was met by myself, Clive Knowles, Chairman of the British Ironworks and owner of the Knife Angel, and Julie Sommerville a Guildford Mum who lost her son Daniel, to Knife Crime in 2015.
The visit of the Duke coincided with a visit by Year 10 pupils from Christ's College School attending a retreat day which was focussed on the themes and messages of the Knife Angel sculpture. Pupils reflected on the idea of peace promoted by the sculpture; considered the consequences of incidents of violent crime; and experienced a session on Emergency Aid involving learning CPR, wound care and what happens when 999 are called with tips on how to respond to questioning to give a medical team the most important information. We are incredibly grateful to the Regional Safety Group for being part of this day and delivering the Emergency Aid sessions.
The Duke met some of the pupils attending this retreat day as well as the Head Teacher Sarah Hatch and the Guildford Cathedral Project Team who have brought Knife Angel to Surrey.
Thursday evening saw the Farewell Vigil, which was an evening of celebration and reflection. I was very pleased to hand out certificates to those who have been involved in the success of this months visit. The evening ended with poetry written and read by Mary Beal and a song written especially for Knife Angel by Emily Bollen.
We are currently experiencing some staff shortages, therefore we are working on reduced opening hours for the Cathedral. Please do check the Cathedral Diary for our opening times during this period. Entry to the Cathedral is free, there is a small charge for Guided Tours. We look forward to welcoming you.
With blessings
The Very Reverend Dianna Gwilliams
Dean of Guildford
Guildford Cathedral is a friendly, welcoming community, with the worship of God at its heart. We welcome visitors, pilgrims and tourists of all ages from near and far and look forward to welcoming you amongst them.