Welcome to Guildford Cathedral...
Philip Moore 80 Years Young
Sunday 8 October and Sunday 5 November | 9.45am Eucharist Services
Join us in singing the Mass setting with the Cathedral Choir

Philip Moore, 80 years young on 30 September 2023, was the second Organist and Master of the Choristers at Guildford Cathedral. In 2013 he was commissioned to write a congregational Mass setting for the Diocese of Guildford, which was first performed here on Saturday 9 February 2013. This Mass setting has been used often at Guildford Cathedral, and now our current Organist and Master of the Choristers Katherine Dienes-Williams has made a rehearsal video to help members of the congregation learn their sung Responses.
You can access the video here.
SUNDAY 1 OCTOBER 2023 | ADDRESS TO CONGREGATION
On Sunday 1 October, our Acting Dean, the Venerable Stuart Beake, addressed both the 9.45am and 6pm congregations.
Stuart spoke of the the selection process for a new Dean of Guildford and how you can contribute to this process. Stuart will talked about the challenges and priorities that lie ahead.
If you were unable to join us, please see our Support Pages to read the Address and watch a recording of the 9.45am address.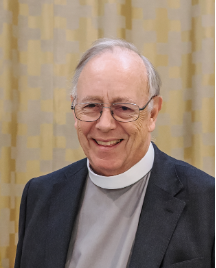 Guildford Cathedral is a friendly, welcoming community, with the worship of God at its heart. We welcome visitors, pilgrims and tourists of all ages from near and far and look forward to welcoming you amongst them.