Cafe and Restaurant
Seasons Café and Kitchen are now open for both takeaway and dine-in, Tuesday – Saturday, 9.30am – 3pm
Seasons Café & Kitchen are delighted to be re-opening on Saturday 4 July, 103 days after they had to close due to the COVID-19 pandemic. Carla and her team look forward to welcoming you for both a takeaway service and indoor dining which will include a selection of coffees and teas, a selection of sandwiches, wraps and salad boxes, crisps, fruit, homemade cake, sweet treats, ice creams and cold drinks. In line with government regulations, those wishing to dine in will be asked to provide contact details.
In line with the new guidance issued, all customers are asked to wear a face mask when at the counter purchasing food and beverages. If you are staying to eat in the café, this should remain in place until you are seated at your table, if you are purchasing to takeaway items, this should remain in place until you have exited the café. Thank you in advance for working to keep each other safe.
Café Manager Carla Williams said
We're really pleased that we are now able to open the café again for our customers. We are currently offering simple menu options only but as customers increase we will be able to expand on this. For those with families on school holidays, but we have a beautiful green space up at the Cathedral with plenty of parking, so it's the perfect spot to get out of the house and socialise in a safe environment. Our customers can feel reassured that we are following all government guidelines to ensure that you can feel confident and comfortable joining us again in the café. Please come and say 'Hi', we're desperate to see people!
The current menu available in Seasons is: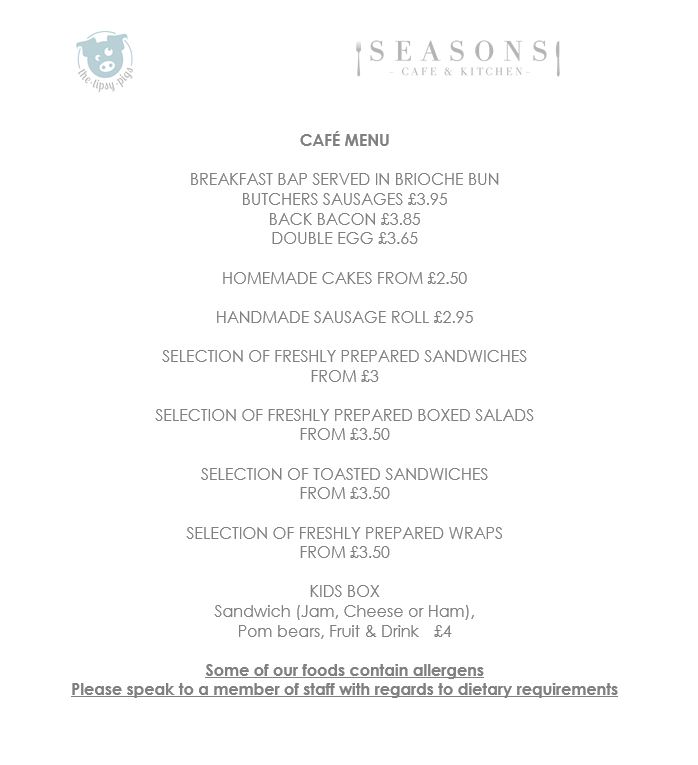 Enquiries for bookings and venue hire should be addressed to seasonscathedral@thetipsypigs.co.uk or telephone 01483 563841.