Events
Family Events
Family Fun Day
WEDNESDAY 28 JULY 2021
Spend some time in the beautiful Cathedral building as part of our free Family Fun Day. Craft activities linked to the story of Noah's Ark, rainbows, and diamonds to celebrate the Cathedral's 60th birthday will be available to do at your own pace. Please book an arrival slot via the online Box Office at https://guildford-cathedral.org/events/boxoffice All welcome - children must be accompanied by an adult.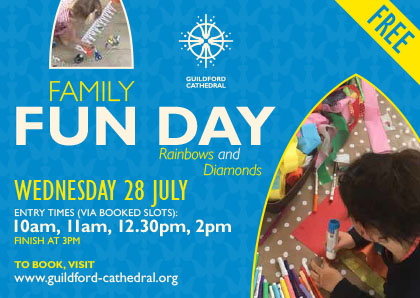 Cathedral Tots
Cathedral Tots is taking a break for the summer holidays but will be back in September 2021. Dates for the autumn term will be displayed here shortly.
Cathedral Tots video services for January to May are still available on our YouTube Channel.