5 April 2020
We can still worship, pray and read our scriptures together even though we cannot gather together in our beautiful building. To participate in Sunday worship download the order of service here. The Facebook link can be found here for you to follow the service.
A Sermon from Bishop Jo
Bishop Jo has released sermon for Palm Sunday and this can viewed here.
Children's Worship Activities
This Sunday we celebrate Palm Sunday, the day when Jesus rode into Jerusalem on a donkey and was cheered by the crowds. We have some simple craft ideas to explore this with you children.

First up, a simple palm tree:
You will need: two pieces of paper (preferably green but you can use pens/pencils to colour a white piece of paper green), scissors, glue/sellotape.
Firstly, colour your paper green using a felt-tip or crayon if you don't have any green paper. Then place one sheet of paper on top of the other and roll them into a cylinder, as tightly as you can, along the shorter edge. Use sticky tape to keep your cylinder together. Then, from one end of the green tube you have now made, make cuts about 1cm apart that go about half way down the paper. Finally pull the strips downwards and outwards to make it look like a tree.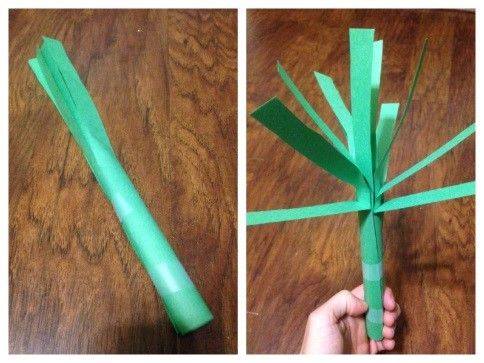 Our second palm Sunday craft is a cute donkey and can be made using things you probably have lying around the house.
You will need: plain paper, pencil, brown crayon, two clothespegs.
Draw the outline of a donkey's body and head on to your piece of paper – just the body and head, not the legs! Then colour the donkey in. Finally, attach two clothespegs at the front and back of the body so that your donkey can stand up on its legs.